Information Center
Our info Centre provides you with useful supplemental information about freight forwarding and logistics
INCOTERMS® RULES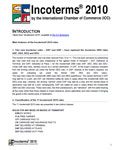 First published by ICC in 1936, The Incoterms® rules are an internationally recognised standard and are used worldwide in international and domestic contracts for the sale of goods.
The rules have been developed and maintained by experts and practitioners brought together by ICC. They have become the standard in international business rules setting. Launched in mid-September 2010, Incoterms® 2010 came into effect on 1 January 2011. The trade terms help traders avoid costly misunderstandings by clarifying the tasks, costs and risks involved in the delivery of goods from sellers to buyers. Incoterms® rules are recognised by UNCITRAL as the global standard for the interpretation of the most common terms in foreign trade
You can find more details about Incoterms® 2010 directly in the ICC website
CONTAINER TYPES
Click below for details of the most commonly used airfreight and seafreight containers:
CONVERSION TOOLS
Useful tools for the conversion of metric measurements into others and backwards:
TRACK AND TRACE
No need to call us – the online results give you real-time, detailed progress as your shipment speeds through Jet International's Transport network.